Whats happening in WA

Perth Caravan and Camping Show.
Call in to the CMCA stand at site 245 in the Jim Webster (Tourism) Pavilion and have a chat with us about what is happening in the State.
Don't forget to tell your friend as well and encourage them to join up on the day and save the joining fee and receive a gift.
We love to see our members.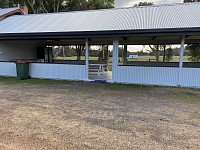 Camp Kitchen
WA gets a new CMCA Eco RV Parks Plus

CMCA Eco RV Parks Plus
We are pleased to officially announce that we will be establishing our first RV park in Western Australia. The park will be located in the little town of Boyup Brook, which is approximately 270kms south-east of Perth and 130kms east of Bunbury. This new opportunity came to us as Council indicated that it did not wish to manage the current site; however, negotiation was required before CMCA agreed to manage the site under a new level of parks called CMCA Eco RV Parks Plus. It does have certain aspects pertaining to a caravan park; however, there will be a strong emphasis behind self-containment and maintaining environmental focus. It has been difficult to get into the market in WA, due to restrictive planning laws especially in establishing a "green field" site; however, the Board and Management felt this opportunity was a good way to introduce ourselves to the largest state in the country. We are still establishing a time frame for when we will take over, although early expectation is that this will possibly be some time in August. We will keep members informed. This park will make 13 parks around Australia, with this number expected to increase in the next 12 months. We are still negotiating with Councils in Victoria; however, they seem to have more planning restrictions than any other state and it is a work in progress.